How to Legally Change Your Name in Kenya. Step by Step Process and Contacts
Ad Details
Ad ID: 29171

Added:

Views: 1584
Description
Process of Legally Changing Your Name in Kenya
Today u might be shocked to learn that the name you've been calling your friend, boss, or colleague is actually not their real names but rather nicknames that they officially adopted.
For instance, some Kenyan leaders have resorted to changing their names in order to adopt identities that resonate well with the electorate.
In 2017, Kiambu Governor Ferdinand Waititu included "Babayao" to his official name, Ferdinand Ndungu Waititu.
The adoption of the name Babayao was hardly surprising, as the abrasive politician always used the same as his campaign slogan.
His Nairobi counterpart, Governor Mike Sonko, previously known as Mbuvi Gideon Kioko formally acquired Mike Sonko as part of his official names in 2012.
Unknown to many, Kiambu Senator Kimani Wamatangi also changed his name from Paul Njoroge Kimani.
How to Legally Change Your Name in Kenya. Step by Step Process.
Before he became a politician, he was engaged in giving out water tanks in Kiambu hence was nicknamed Wamatangi (Kikuyu for the water tanks man).
Muranga Governor Mwangi Wa Iria was initially known as Francis Mwangi when he used to work at the new Kenya Cooperative Creameries.
To win voters in 2013 in Murang'a, he also adopted the name Mwangi wa Iria promising to improve iria (Kikuyu for milk) production in the area.
Selfmade Uasin Gishu billionaire Zedekiah Kiprop Bundotich, also adopted 'Buzeki' as his name which is an acronym of his full name.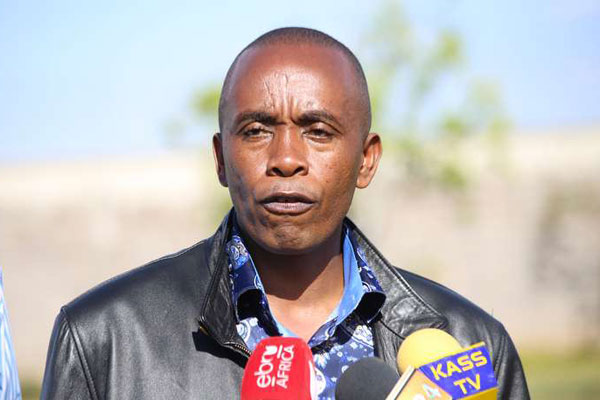 Nonetheless, if you're considering getting a legal name change yourself, the biggest thing to keep in mind is that it is a process, rather than a one-stop shop.
You may need services of a lawyer to effect the desired change through the use of a legal document called a deed poll ,at the Principal Registry office.
Read on to find out how you can officially register your nickname and use it as your official name..
Under what circumstances can you change your name in Kenya?
People legally change their first, middle, or last names for a variety of reasons:
1. You can change your name at any time and for any reason provided, it is not to deceive or defraud or to avoid an obligation.
2. If a married person makes an application for a change of name, then their spouse has to give consent to the proposed change of name.
3. For a divorced person, a certificate from an advocate that he/she is living separately from their spouse is required.
If the applicant is divorced then their certificate of marriage or evidence of marriage together with decree absolute or certificate of divorce will be required, to facilitate the change of name.
4. Unmarried mothers whose children were registered with the father's surname and wish for their children to have their surname.
5. In case you have anomalies in identification documents like the ID card or the Passport.
6. When a person is undergoing a gender reassignment.
7. If you feel you have an unpleasant-sounding given name or even an embarrassing name.
Restrictions for changing your name in Kenya?
The registrar may refuse to accept a change of name, if;
1. The change is impossible to pronounce.
2. Includes numbers, symbols or punctuation marks.
3. Chosen names are vulgar, offensive or blasphemous.
4. Other names that can be rejected are those that promote criminal activities, racial or religious hatred or use of controlled drugs.
5. Other names that cannot be registered are those that ridicule people, groups, Government departments, companies or organisations.
6. Names that may result in the belief that you have a conferred or inherited honour, title, rank or academic award, for example, a change of the first name to:
a) Sir
b) Lord
c) Lady
d) Prince
e) Princess
f) viscount
g) Baron
h) Baroness
i) General
J) Captain
K) Professor
l) Doctor
Required documents for changing your name
Some of these documents might be required depending on the reason for changing particulars.
a) Letter from the area chief
b) Fingerprint printout
c) Deed poll and affidavit to which shall be attached certain requisite documents
d) An affidavit by a witness who has known you for at least 10 years
e) Two Passport size photo.
f) Birth certificate or Baptism certificate.
g) Identity cards of your parents.
h) Marriage Certificate
i) School Leaving Certificate
j) Sworn affidavits
k) Copy of parents ID card
l) Birth Certificate
m) Divorce Certificate
n) Parental consent to marriage
How to legally change your name in Kenya
Here is the process:
1.) Visit the Registrar Generals Department and have a copy of the Deed Poll drafted.
Note: It takes at most 5-21 working days to produce Deed Poll
A fee of KSh 500 is payable for the deed poll presented for registration.
2.) Complete a deed poll prescribed as ( Form 1 ) of the Regulations to the Act;
3.) Make an application for registration which is prescribed as Form A in the Registration of Documents (Forms) Regulations;
5.) The Deed Poll is accompanied by a birth certificate of the applicant.
6.) The application is also accompanied by a statutory declaration prescribed under the Act (Form 6).
This declaration is sworn by a person resident in Kenya and who personally knows the applicant by the name they want to change.
7.) The documents are presented to the Registrar of Documents for registration.
8.) Upon registration, the registrar causes the deed poll to be advertised in the Kenya Gazette.
The name change is effected at this point.
How to change your name in the Identity Card (ID)
Sometimes, after name change has been effected under the procedure above, the person feels the need to reflect the change in their identity card.
Under the Registration of Persons Act, the process of changing the name in your identity card is as follows:
1.) Fill Deed poll on change of name (form 1) and present it to the Registration Officer. This form gives the particulars of the change.
This form can be obtained from the registrar general's office or downloaded online.
2.) Be in possession of a combination of any of the following documents depending on the type of name change;
1. Marriage Certificate
2. Deed Poll
3. School Leaving Certificates
4. Sworn affidavits
5. Confirmation letters from an administrative office
6. Birth Certificate
7. Copy of parents ID card.
3.) Surrender the current identity card and pay a fee of Ksh 1000/=.
4.) The registration officer signs a certificate in a form prescribed in the Fourth schedule to be issued to the applicant;
5.) The applicant's photo is taken for the purpose of enabling a new identity card to be issued to him.
6.) The Registration officer forwards the application form, the photograph, and the surrendered identity card to the Principal Registrar who records the changes in the register of persons; and cancels the surrendered I.D. card.
7.) After the expiration of sixty days from the issue of the certificate by the registration officer, the applicant appears before the registration officer at the registration office specified in the third column of the certificate and surrenders the certificate in exchange for a new identity card.
Office locations & contacts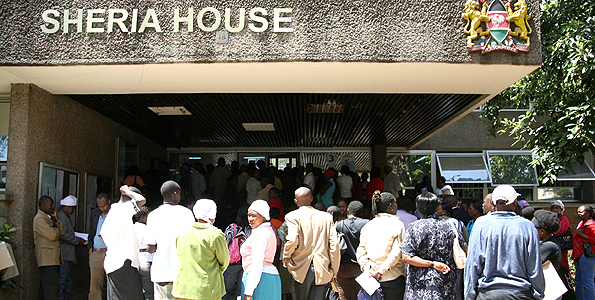 1. Registrar General Department
Office of the Attorney General Sheria House,
Harambee Avenue
P.O. Box 40112-00100,
Nairobi, Kenya
Tel: +254-2-2227461/2251355, 0711 9445555/0732 529995
E-mail: communications@ag.go.ke
2. Registrar General
Department of Justice,
Co-operative Bank House,
Haile Selassie Avenue,
P.O. BOX 56057- 00200,
Nairobi, Kenya.
Tel No. +254- 2- 2224029/ 2224082/ +254- 733- 241111
Email: legal@justice.go.ke
Comments